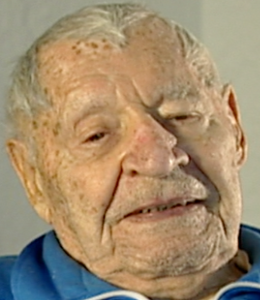 Albert Brown was 101 years old when I interviewed him on camera in his home. I had done a pre-interview with him several weeks before and during that time had some difficulty getting information from him. We sat in the dining room with two of his children; Peg Doughty and "Sonny." They tried to assist during the pre-interview since they knew all their Dad's stories and knew what had happened to their Dad. The pre-interview did not go well and when I left I was very worried that I might not be successful at all with on-camera interview.
But I decided to return in a few weeks with a camera and my attitude was if I got one good answer to only one question I would be happy. Well, I got more than one good answer and the evidence is in the documentary. I also use several sections of his on-camera interview in my second upcoming documentary on the POW experience.
One of the many gems that I have discovered during my research was Captain Albert Brown's diary. The diary begins before December 8, 1941-April 9, 1942. Below are some excerpts that I could not fit into the documentary. He hid the diary in the lining of a musette bag during his imprisonment.
December 30, 1941 23rd Day of War.
The 26th Cavalry of the Philippine Scouts really distinguished themselves. A Lutenaant made the mistake of lighting a cigarette early one morning. An ambushed machine gunner yelled that was the wrong thing to do and they were riddled by the Japanese, losing about 500 hundred mounts, eight officers, and many unlisted men. They were covering the flank. The Philippine Army retreated and left them cut off. They had to take to the mountains around Lingayen and get reorganized.

January 24, 1942 48th Day of War.
Saturday is bath night-not having my clothing off since last Friday, I am going to duck the shells and go to the General Hospital to shave and bathe. My whiskers look like the "Days of the '49 Miners" and although we have an agreement with the Japanese that neither shall use gas, you can't always depend on them. As whiskers leak gas through our masks, it is a bad practice to let our beards grow too long on account of not wanting our lungs gassed.

February 11th, 1942 66th Day of War.
At Quinaoan Point, on the West side, a group of Officers were approaching a steep grade. One of the Officers said, "Let's stop here and rest." One of the other Officer's said, "Let's continue on to the top if the hill and rest." Just then a voice from the top of the hill came shouting down at them, "why don't you come on up here, Joe?" An Americanized Japanese sniper with a bit of humor.

March 30th, 1942 115th Day of War.
Since Tuesday, March 24th, the Japanese have been bombing Bataan and Corregidor. Bombing formations have been as large as fifty-four bombers, and as often as fifteen times in one day. They have also taken advantage of the moon lit nights to overcome their characteristic night blindness, and made it a night-and-day affair.

April 1, 1942 115th Day of War
Yes, it's April Fool's Day for the men on Bataan, the only army in the world boxed up and bottled up; We certainly are the biggest fools of this war, fighting for the biggest and strongest nation in the world. The war dept. keeps telling us to fight to the last man, fight to the last hole, for help-men-guns-material are on the way. They have deserted us and we are on our own; every day is an "April Fool's Day."
BIO
Albert N. Brown was born in North Platte, Nebraska in 1905. A neighbor and family friend Wild Bill Cody was his god-father. He was graduate of the school of dentistry at Creighton University. He set up a practice in Council Bluffs, Iowa. He was married and the father of three children when he was called to duty by the Reserve Officers Training Corps which he had been a member for years. He was ordered o the Philippines and was Captain of the Dental Corps. After the fall of Bataan he survived the Death March and spent three and a half years in several infamous prisons including Cap O'Donnell, Cabanatuan and Bilibid. He traveled on a "hell ship" to Japan was placed in a prison in Hokido where he stayed until the end of the war and the surrender of Japan.